The main raw materials of vinyl chloride are chlorine, which is obtained by decomposing inexhaustible natural salt on the planet, and ethylene, which is obtained from oil.
Vinyl chloride is resource-saving compared with most plastic materials, which use oil as the 100% raw material. The amount of energy in the production process is much smaller than the other plastic materials, so it is also an energy-saving material.
Comparing the LCIs (life cycle inventory) of representative general-purpose resins, the process energy from the mining of oil to manufacturing of resins is 22.3 to 30.0 MJ/kg and there is no significant difference among resins. However, as for resource energy, while the energy of the resins which mainly contain carbon hydride from oil is 45.6 to 46.5 MJ/kg, that of vinyl resin, in which chlorine accounts for over half of its weight, is 21.3 MJ/kg, half or smaller than that of the other resins. This means that its loads are small.
The total energy loads of the process and resources of vinyl chloride resin (46.1 MJ/kg) are 64% of those of low-density polyethylene (LDPE)(72.2 MJ/kg), which is often used for packaging materials, so vinyl chloride resin is a good material with the smallest energy loads.
Source: Vinyl Environmental Council
LCI data of general-purpose resin manufacturing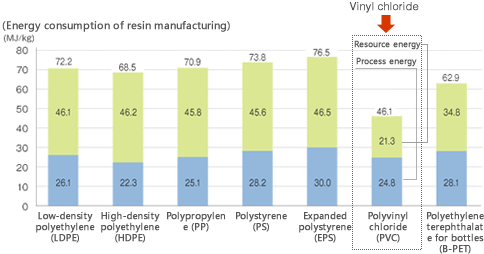 Source: (One company) Plastic Waste Management Institute "Survey Report for LCI Data of Petrochemical Products" (Mar, 2009)